Introducing the Nike Re-Creation program, transforming locally collected Nike products into new designs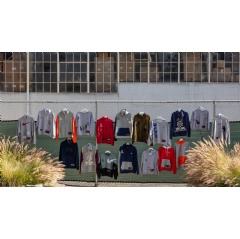 The Nike Re-Creation program collects vintage and dead parts locally, using them to create new locally designed and manufactured products.
Nike Re-Creation is another way Nike is creating new solutions to advance a circular vision and pursue the ultimate goal of a zero-carbon, zero-waste future.
The first chapter of the Nike Re-Creation program features three iconic hoodie and crew silhouettes inspired by Los Angeles sports culture and will be available exclusively at Nike The Grove store.
Transforming locally collected vintage and unused pieces into locally designed and manufactured products, the Nike Re-Creation program initiates a new circular business model close to and designed for the local athlete.
The first chapter of the program, launching May 26 at The Grove in Los Angeles, features three iconic Nike fleece hoodie and crew silhouettes. Each silhouette is available in limited quantities, and individual pieces have been restored to wearable condition through a manual process of cleaning, dyeing, sewing, and patching. Each piece is unique and features patches, as well as decorative stitching to enhance durability, and an array of screen-printed graphics inspired by Nike and LA heritage.
As an expression of Nike's circular vision, the Re-Creation program helps reimagine waste streams as resources and creates new value by reusing its own materials and products. "Nike Re-Creation highlights an exciting time of experimentation and progression," said John Hoke, Director of Design at NIKE, Inc. "The program exemplifies Nike's collaborative spirit, bringing together experts in design, sales retail, supply chain and sustainability to strategize and learn."
The Nike Re-Creation program follows the Nike Grind (established in 1992), Nike Refurbished and Nike Recycling & Donation initiatives, continuing Nike's innovative work to create a more circular future.
(Image from press release: https://photos.webwire.com/prmedia/8/289596/289596-1.jpg )
Related links
WebWire ID289596
This topical content was set up by WebWire's editorial staff. Linking is allowed.
Press release distribution and press release distribution services provided by WebWire.